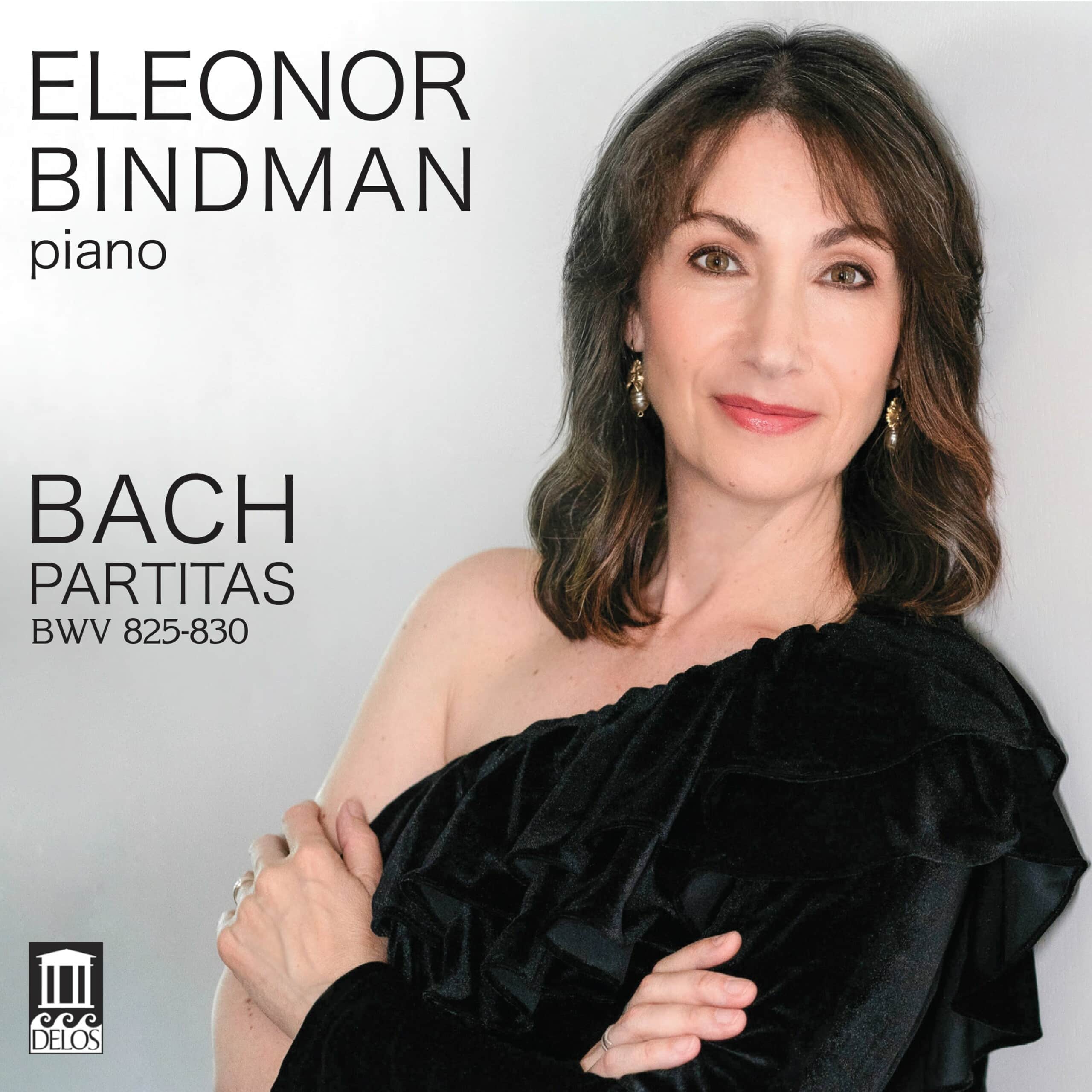 J.S. Bach: Partitas BWV 825-830
The profound and delightful Partitas, J. S. Bach's Opus 1, sparkle in Eleonor Bindman's brilliant performance. Her unhurried tempos bring out the twists, turns and quick modulations of the dance movements and preludes of this unparalleled set of six suites — famous in Bach's day and today for their vitality and depth. Bindman's spirited recording enriches the listener's experience by revealing the power and emotional nuances of the suites.
The scope of the Partitas is vast — melody, harmony and counterpoint blending in sonorous combinations that surprise, fascinate and enchant. In the words of Bach's first biographer, J. N. Forkel: "Such excellent compositions for the clavier [keyboard] had never been seen and heard before. Anyone who had learnt to perform well some pieces out of them could make his fortune in the world thereby." Choosing to publish this set as his Opus 1, Bach clearly held these compositions in high esteem.
Tracks:
Disc One
Partita I in B-flat Major, BWV 825: Praeludium
Partita I in B-flat Major, BWV 825: Allemande
Partita I in B-flat Major, BWV 825: Corrente
Partita I in B-flat Major, BWV 825: Sarabande
Partita I in B-flat Major, BWV 825: Menuets I and II
Partita I in B-flat Major, BWV 825: Gigue
Partita II in C Minor, BWV 826: Sinfonia
Partita II in C Minor, BWV 826: Allemande
Partita II in C Minor, BWV 826: Courante
Partita II in C Minor, BWV 826: Sarabande
Partita II in C Minor, BWV 826: Rondeaux
Partita II in C Minor, BWV 826: Capriccio
Partita VI in E Minor, BWV 830: Toccata
Partita VI in E Minor, BWV 830: Allemande
Partita VI in E Minor, BWV 830: Corrente
Partita VI in E Minor, BWV 830: Air
Partita VI in E Minor, BWV 830: Sarabande
Partita VI in E Minor, BWV 830: Tempo di Gavotta
Partita VI in E Minor, BWV 830: Gigue
Disc Two
Partita III in A Minor, BWV 827: Fantasia
Partita III in A Minor, BWV 827: Allemande
Partita III in A Minor, BWV 827: Corrente
Partita III in A Minor, BWV 827: Sarabande
Partita III in A Minor, BWV 827: Burlesca
Partita III in A Minor, BWV 827: Scherzo
Partita III in A Minor, BWV 827: Gigue
Partita IV in D Major, BWV 828: Ouverture
Partita IV in D Major, BWV 828: Allemande
Partita IV in D Major, BWV 828: Courante
Partita IV in D Major, BWV 828: Aria
Partita IV in D Major, BWV 828: Sarabande
Partita IV in D Major, BWV 828: Menuet
Partita IV in D Major, BWV 828: Gigue
Partita V in G Major, BWV 829: Preambulum
Partita V in G Major, BWV 829: Allemande
Partita V in G Major, BWV 829: Corrente
Partita V in G Major, BWV 829: Sarabande
Partita V in G Major, BWV 829: Tempo di Minuetta
Partita V in G Major, BWV 829: Passepied
Partita V in G Major, BWV 829: Gigue
Liner Notes:
J.S. Bach is quoted to have said: "All you have to do is to strike the right keys at the right time and the music will play itself." This statement needs to be understood in historical context. Whoever was "striking the keys" 300 years ago was likely to be a professional, often born into a family of musicians like Bach himself and educated in the art of counterpoint and harmony – the meaning of music.
Nowadays, keyboards are played by all kinds of people. Telling the difference between the right and the wrong keys is usually not a problem but playing at the "right time" is more difficult, especially if we include the tempo in our definition of "time." Not only is individual perception of speed subjective and variable but our pace of living is exponentially faster now then it was in the 18th century. Can the details and layers of meaning in Bach's language be duly appreciated at this new pace? That is something for us to consider.
Bach published the six keyboard Partitas himself in 1731 as his "Opus 1," clearly indicating that he was satisfied with his work. And he probably had very high standards. Were they intended to be playedasaset?Consideringtheirdifficulty and length, probably not. Besides, most of Bach's solo instrumental cycles were primarily intended as "practice pieces." Yet sometimes one encounters a performance
of all six Partitas in recital, despite the demand this places on the audience's attention span and keyboardist's powers of concentration alike. I have played as many as four of them together in recital myself and even that may have been too rich an offering for many in the audience.
Of course, the advent of music recording in the 20th century (would the Goldberg Variations be so immensely popular if Glenn Gould hadn't decided to record them twice?) and of digital music streaming in the 21st century has completely changed the way people perceive music. Wrong notes are eliminated in recorded music, a practice which engenders similar expectations at concerts, raising the stakes and the nervous strain for performers.
The pastime of listening to music no longer demands our exclusive attention. Current streaming trends "conveniently" split up Classical works and then assign sections to playlists for various designated lifestyle activities. We can now choose to hear just one Partita while working, two or three movements on the way to a grocery store or even stream the same dance over and over again while exercising. As technology advances, the compact disc recording format is well past its heyday, but its allotted play time still constrains our choices of grouping and interpreting longer cycles of music, as does our accepted "after dinner" live recital length. When presented in its entirety, whether recorded or played live, Bach's "Opus 1" ends up cramped by our habitual listening mediums.… Continue Reading
Reviews:
"If I had to describe these performances in a single word, that word would be "affectionate." Bindman clearly loves this music, and she plays it caressingly, as a lover would. … I'd like to point to the aforementioned Sarabande from Partita No. 3, which, under Bindman's fingers, becomes an absolutely hypnotizing and eloquently grave meditation on the expressive power of 16th-note triplets. This is why we listen to new recordings of music we love—to shine a light on it of which we had not previously been aware.… This release excited my admiration from the moment I started playing it, and that attention has not waned over the course of more than a week. This could be on my Want List at the end of the year." —Raymond Tuttle, Fanfare Magazine
"Eleonor Bindman's strong and assertive fingerwork complements her firmly centred rhythm… subtle momentum informs Bindman's gravitas, while…intimately unfolding conversational lightness" —Jed Distler, Gramophone
"Bindman's approach, very sensibly, is to let this amazing music speak for itself. Opting for unhurried tempi, she approaches the dance movements with poise, her playing throughout the cycle an object lesson in perfectly balanced voicing and articulation. …In my review of her last Bach recording I hailed Bindman as delivering, 'Bach playing of the highest order.' With these model interpretations she does so again here… these intimately recorded and musically convincing performances strike just the right balance between familiarity and revelation. A superb release." —Andrew Eales, PianoDao
"Listening to the recording, I was immediately impressed by Bindman's relaxed tempos, and the unhurried pace of her interpretation… In Bindman's recording, ornamentations become what they should be, an emotional emphasis of the moment. And that is certainly the case in her creative treatment of repeats, when the first sounding is simplified while the repeat presents the richly embellished original." —Hermione Lai, Interlude
"Eleonor Bindman continues to impress with every new display of her keyboard artistry. …her complete survey of the Bach Partitas, BWV 825-830, proves the clincher: [she] can do anything! …Bach's keyboard fingerings, difficult to master on the modern piano, hold no mystery for Bindman. It is a measure of this artist's combined scholarship and keyboard prowess that we can't tell where the composer leaves off and the performing artist takes over. Really, this is as fine a survey of the Partitas as I've ever been privileged to hear. I am pleased to recommend it." —Phil Muse, Atlanta Audio Club
Buy/Listen: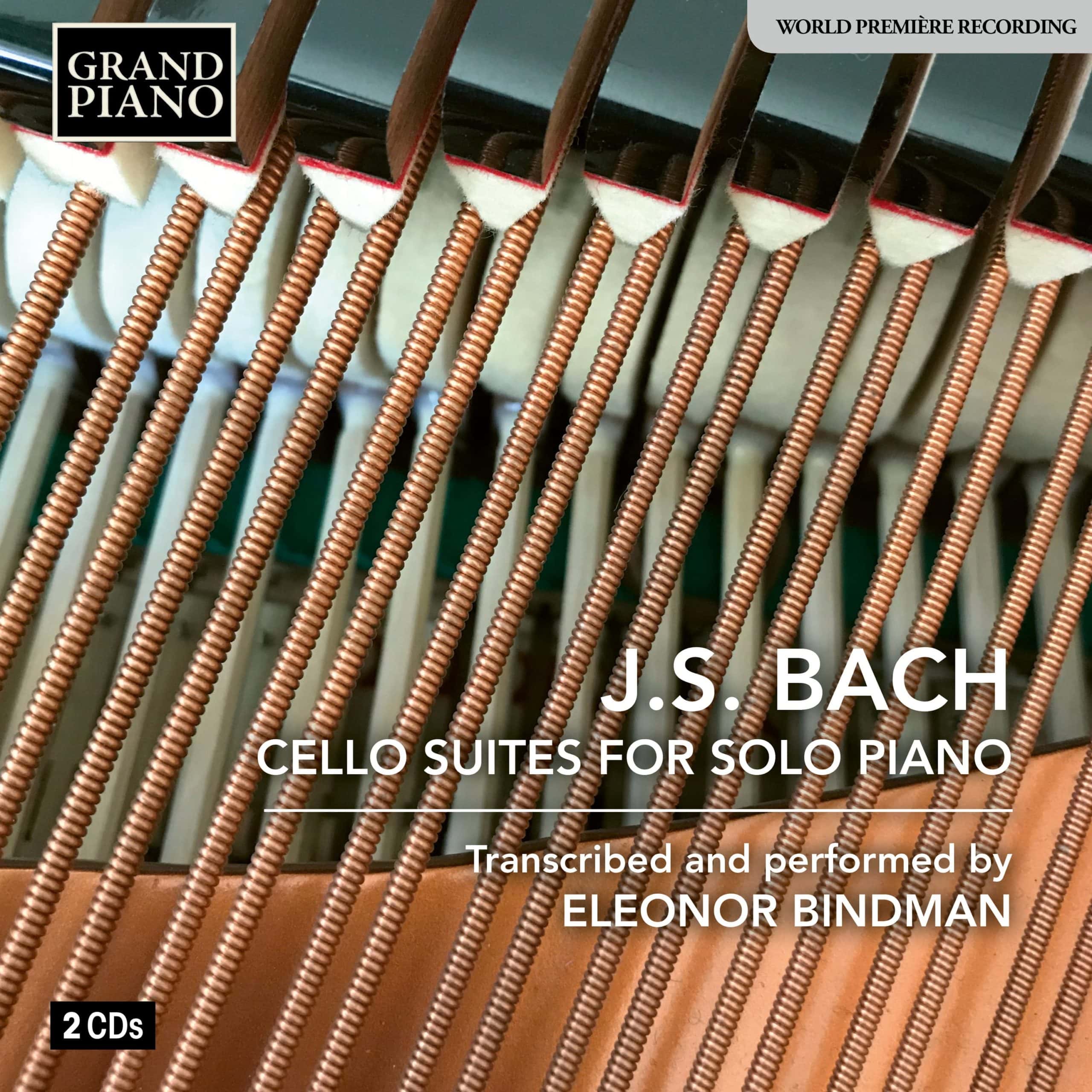 J.S. Bach Cello Suites for Solo Piano Recording
On the heels of the recent recording – "breathtaking in its sheer precision and vitality" (Pianist magazine) – of her own transcription for four-hands piano of J.S. Bach's Brandenburg Concertos, pianist Eleonor Bindman has now completed a new project: a solo piano transcription and recording of all six of Bach's suites for unaccompanied cello. These pieces have been transcribed many times for instruments from trombone to charango, starting with the lute version of Suite No. 5 made by Bach himself. But previous piano versions, particularly in the 19th century, tended toward "improvements" ranging from added harmonies to newly composed accompaniments. Bindman's goal was to adhere as closely to the original works as possible, making a simple and sincere attempt to bring a new sonority to some of Bach's most beautiful conceptions. The new recording will be released on the Grand Piano label, a subsidiary of Naxos, on October 9.
Each of the cello suites begins with a prelude, followed by a series of movements named after dances but not always especially danceable; Bach treated these forms with great flexibility. Thus Bindman's immersion in the cello suites was partially a process of discovering the organic personality of each movement, distinct from the other examples of that dance in the other suites. In some cases the mechanics of the piano affected her interpretation: for example, she tended toward slightly faster tempos than a cellist would be inclined to take. Tonalities also proved to be an important consideration: the E-flat key of Suite No. 4, for example, is notably idiomatic for the piano – doubly so on Bindman's richly resonant Bösendorfer – despite being a difficult key for the work's original instrument. A video of Bindman playing the Prelude from Suite No. 1 can be seen here.
Among Bindman's motivations was the desire to make the music accessible to amateur pianists, for whom these single-voice masterpieces can now be an experience of the beauty and structure of Bach's music without the problems of coordination that can make even the simplest two-part inventions a daunting challenge. Fortuitously, the current pandemic-imposed limitations on the fine arts and human contact make this part of her purpose even more significant. As she says:
"I am especially happy about introducing these new arrangements to amateur pianists. As a teacher I have found working with adults particularly gratifying, because they are actively looking for ways to grow and participate and enjoy their lives. I want to give those pianists access to this great music without the bar being so high they feel unequal to it. These pieces certainly make excellent technical exercises, but they can also shift the attention from mechanics to cultivating tone and expression, to training the ear. The practice of listening to oneself is the only true path to musicianship. If this arrangement helps someone along this path, my goal will be accomplished."
Another of Bindman's recent projects was the publication of a piano book called Stepping Stones to Bach – 24 intermediate piano arrangements of the Baroque master's most famous tunes – that included three movements from the cello suites and proved to be a stepping stone to the transcription of the entire set. Bach would probably have approved; as shown by his Well-Tempered Clavier, the purposes of music-making and technical studies can often overlap, so a project with a foot in both worlds can boast a good pedigree.
"Bach himself regularly transcribed his own and other composers' music and created different instrumental versions of the same piece. This transcribing practice has persisted and is still very much alive. … The resulting musical statement may be a faithful reproduction …, a transformation beyond recognition or something in between. Regardless of the outcome, the original source is of such exceptional depth and appeal that for the past three centuries it attracted a steady stream of pilgrims, ready to sacrifice their time and energy for the joy of communion."
Explore the Bach Cello Suites for Solo Piano Project Page
Tracks:
CD 1
CELLO SUITE NO. 1 IN G MAJOR, BWV 1007

I. Prelude
II. Allemande
III. Courante
IV. Sarabande
V. Menuets I–II
VI. Gigue

CELLO SUITE NO. 2 IN D MINOR, BWV 1008

I. Prelude
III. Allemande
III. Courante
IV. Sarabande
V. Menuets I–II
VI. Gigue

CELLO SUITE NO. 3 IN C MAJOR, BWV 1009

I. Prelude
II. Allemande
III. Courante
IV. Sarabande
V. Bourrées I–II
VI. Gigue
CD 2
CELLO SUITE NO. 4 IN E FLAT MAJOR, BWV 1010

I. Prelude
II. Allemande
III. Courante
IV. Sarabande
V. Bourrées I–II
VI. Gigue

CELLO SUITE NO. 5 IN C MINOR, BWV 1011

I. Prelude
II. Allemande
III. Courante
IV. Sarabande
V. Gavottes I–II
VI. Gigue

CELLO SUITE NO. 6 IN D MAJOR, BWV 1012

I. Prelude
II. Allemande
III. Courante
IV. Sarabande
V. Gavottes I–II
VI. Gigue
Liner Notes:
The genius of J.S. Bach is recognised and revered by everyone who is musically educated. His output, studied by the greatest composers and the youngest apprentices alike, has been an inexhaustible source of inspiration, imitation and renewal. One common method of renewal is through transcription. As a matter of fact Bach himself regularly transcribed his own and other composers' music and created different instrumental versions of the same piece. This transcribing practice has persisted and is still very much alive, as evidenced by many current recordings, including this one. Approaches can be as diverse as Bach's body of work, depending on the form of the original composition, the designated instrumentation and the goal of the arranger. The resulting musical statement may be a faithful reproduction (my personal preference), a transformation beyond recognition or something in between. Regardless of the outcome, the original source is of such exceptional depth and appeal that for the past three centuries it attracted a steady stream of pilgrims, ready to sacrifice their time and energy for the joy of communion…
Read more on the Brandenburg Duets Project page
Reviews:
"The Six Solo Cello Suites are some of the most celebrated and much-loved works in the classical repertoire, and they continue to fascinate and inspire performers and audiences alike. In this brand new transcription for solo piano, Eleonor Bindman pays tribute to this music's enduring allure. … The transcription offers scope for some adventurous interpretation, particularly in the wonderfully playful pairs of Minuets, Bourrées and Gavottes. … Like the works included in her 'Stepping Stones to Bach', Eleonor has provided pianists with yet more repertoire to explore, and her elegantly, meticulous transcriptions shine a new light on this wonderful music while also remaining true to the original." —Frances Wilson, The Cross-Eyed Pianist
"Her skillfully wrought arrangements… [treat] the solo cello lines straight, and… you get Bach's text served up with sensitivity and taste… Bindman's well-considered tempos address the music's dance origins. …her Preludes and Sarabandes sing out well" —Jed Distler, ClassicsToday
"Prepare to be surprised when you listen to the new 2-CD release of Eleonor Bindman playing her piano arrangements of Bach's Cello Suites. Ms. Bindman's arrangements faithfully include the notes you will find in the original Bach, but have become works that are new, unique, and completely satisfying on their own terms." Barry Lenson, Classical Archive
"Quite simply (and irrespective of the particular novelty factor here) this is Bach playing of the highest order. … Listening to Bindman's recording, I was immediately struck by the mellifluous beauty and sensitivity of her renditions of these iconic cello works; that she has transcribed them so well and plays them with such assurance, grace and finesse makes this 2CD set an easy choice for my Recording of the Month." —Andrew Eales, Pianodao
"…an ideal way for amateur pianists to explore the music in domestic surroundings. These Cello Suite transcriptions are completely different, Bindman adding sparingly to the texture of the melodic-line, a very conscious decision, having found previous arrangements only convincing her that the Suites didn't need any 'improvement'. … Her performances are nicely shaped, and without affectation, tempos always well chosen… The New York engineers offer an ideal clarity, and Bindman's programme notes are highly informative." —David Denton, David's Review Corner
"Bindman maintains the majesty of Bach's music, via both her transcription and her convincing command of the keyboard. Whether you're a purist or a Bach devotee, this satisfying 2-CD set is worthy of a thoughtful listen." —Sharna Searle, The Whole Note
"Bach's music is great no matter who plays it on what. Bindman takes him quite literally, transcribing in the register he wrote in, mostly, and clearly with enjoyment. Her tempos are sometimes faster than a cellist's fingers might find practical, but her musical sense is excellent. She observes most of the written repeats" —David W Moore, American Record Guide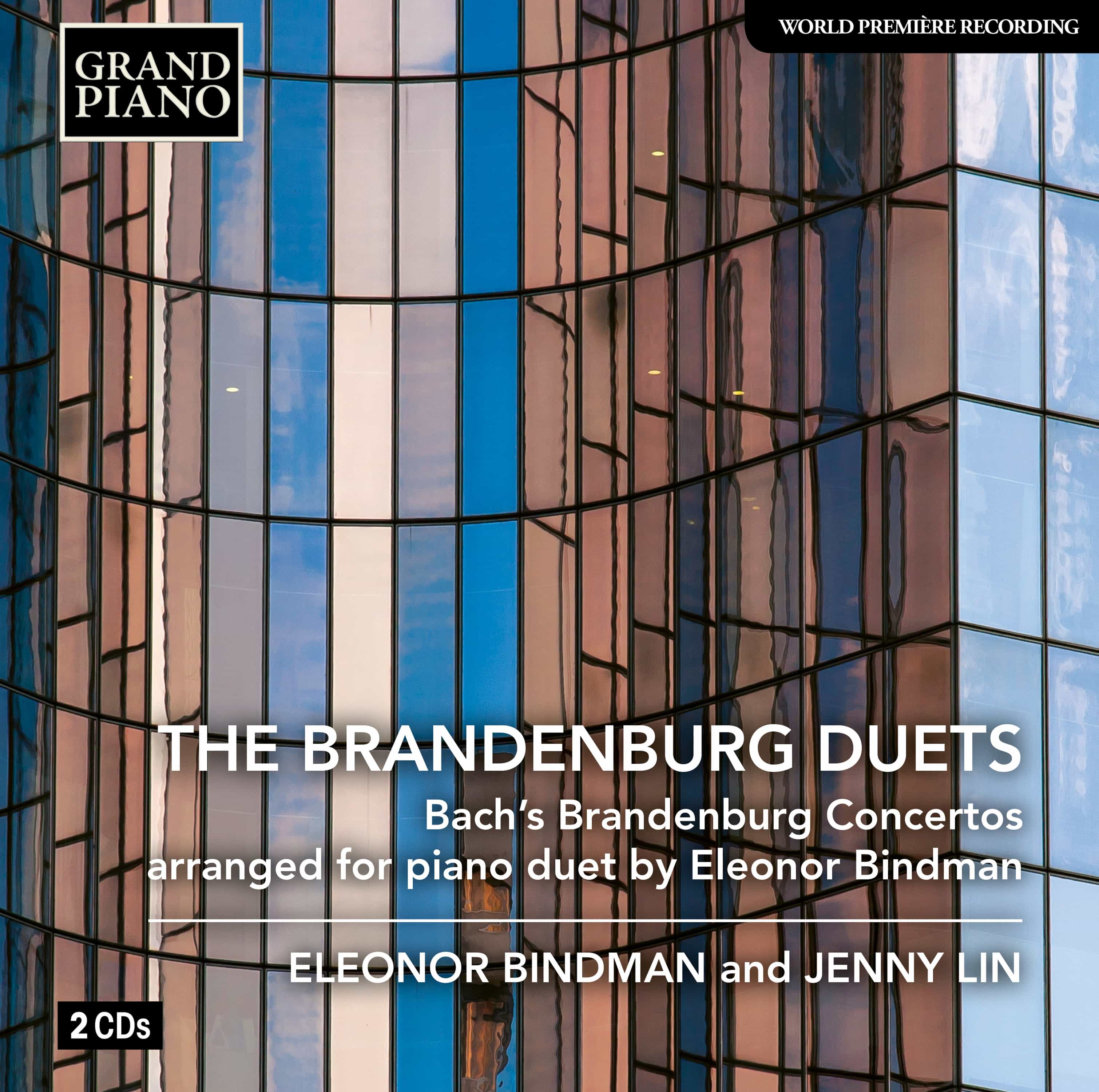 The Brandenburg Duets
"The existing Piano Duet transcription of the Brandenburg Concertos proved to be of no avail to musicians so I felt compelled to create an accessible arrangement, one that could place these masterpieces into the heart of the piano-four-hands repertoire next to Mozart's Sonatas and Schubert's works. By recording the Brandenburg Duets, I hope to attract fresh attention to the art of partnership on one keyboard and to inspire amateur and professional pianists alike to engage in music-making of the highest order. We can never have too much Bach." – Eleonor Bindman
Unlike the only published piano duet arrangement by Max Reger, which has serious performance limitations, Eleonor Bindman's new transcription of the Brandenburg Concertos highlights their polyphony, imagining how Bach might have distributed the score if he had created four-part inventions for piano duet. With an equal partnership between the two instrumentalists, using the modern piano's full potential to convey the unique scoring and character of each work, the concertos are ordered to create an engaging listening sequence.
Explore the Brandenburg Duets Project Page
Tracks:
CD 1
BRANDENBURG DUET NO. 1 IN F MAJOR (19:04)
I. Allegro moderato (04:30)
II. Adagio (03:29)
III. Allegro (04:14)
IV. Menuetto – Trio I – Polacca – Trio II (06:44)
BRANDENBURG DUET NO. 3 IN G MAJOR (10:23)
I. Allegro moderato – II. Adagio (06:47)
III. Allegro (03:33)
BRANDENBURG DUET NO. 5 IN D MAJOR (21:47)
I. Allegro (10:02)
II. Affettuoso (05:56)
III. Allegro (05:44)
CD 2
BRANDENBURG DUET NO. 6 IN B FLAT MAJOR (17:05)
I. Moderato (08:13)
II. Adagio ma non tanto (03:32)
III. Allegro (05:14)
BRANDENBURG DUET NO. 4 IN G MAJOR (16:16)
I. Allegro (07:27)
II. Andante (03:52)
III. Allegro (04:51)
BRANDENBURG DUET NO. 2 IN F MAJOR (11:41)
I. Allegro (05:02)
II. Andante (03:39)
III. Allegro (02:54)
Liner Notes:
My main goal was to create a transcription which highlighted the polyphony, imagining how Bach might have distributed the score if he intended to create 4-part inventions for Piano Duet. Doubling the cello/bass part in octaves, as Reger did, made no sense because it kept both hands of Secondo occupied and resulted in excessively bottom-heavy sonorities. Likewise, throwing all of the treble parts together in the Primo – violins, violas, oboes, solo french horns, flutes or trumpet plus the harpsichord – rendered the part unplayable at any decent tempo and hid the counterpoint in clusters of chords. To return to Baroque sensibilities, the individual lines had to be clear to the eye of the performer in order to be clear to the ear of listener. Since the fast movements of the Concertos usually have at least 4 voices intertwining and because more than 3 voices in polyphony become harmony in effect, some incidental parts could be omitted without any harm done to the integrity of the music. Using the Freiburg Baroque Orchestra's "chamber" sound as a point of reference, i was able to restore the hierarchy and balance of the parts. At the same time, secondary string lines which may not be clearly audible in the orchestral version now sounded more distinctl on the keyboard. This approach helped give Bach's magnificent texture the desired clarity for an elegant new translation.
Equal partnership of the pianists was another vital need in conveying the nature of Bach's material and it resulted naturally from the polyphonic approach discussed above. In a Concerto Grosso, the sound should be fused in the Tutti sections and divided into threads for the solos. When different instruments, such as the flute and the violin, have simultaneous solos, we have no trouble hearing two voices. On the keyboard, however, the easiest way to give the lines different expression is to assign them to different people. The Piano Duet medium presents equally effective possibilities of either blending or differentiating the sound each performer produces. In the present arrangement, Secondo is always given an opportunity to fully indulge in beautiful melodic lines and the Duet partners execute frequent hand-crossings and other logistical adjustments which go with the piano-4-hands territory and make the collaborative experience even more enjoyable. These thematic exchanges enhance the momentum of the slower movements, as in the Andante of Brandenburg Duet #1 where Secondo takes the lead in the sublime oboe and violin duet.…
Read more on the Brandenburg Duets Project page Download the Booklet Notes
Reviews:
"What Bindman and Lin achieve as a dual partnership… is breathtaking in its sheer precision and vitality.… Created well in time before the 300th anniversary of the Brandenburg Concertos, the young talents of the piano world will now dive into what could eventually be standard repertoire for piano duos." Donald Hunt, Pianist Magazine
"Bindman's transcriptions have a clarity and a cleanliness that Reger's lack, although Bindman's and Lin's playing no doubt also is a contributing factor.… I can't say that I enjoyed hearing this any less than I enjoy hearing Bach's originals. … I will be interested to see if the appearance of Bindman's transcriptions in print will attract other musicians.… I think they can help us to hear these familiar works in new ways, and to gain a new understanding of them. For those reasons, I think they are valid, and Bindman and Lin make a great case for them."
Raymond Tuttle, Fanfare Magazine
"With an equal collaboration between the two instrumentalists, using the full potential of the modern piano, to convey the unique writing and character of each concerto, the six concertos by both pianists Eleanor Bindman and Jenny Lin were arranged ( 1-3-5-6-4-2), that they create a fascinating listening series. Because Bach's Brandenburg Concerti were never intended to be performed as a continuous series, their order is of little importance. You should not miss this version. It is very original and very, very special. Highly recommended." Michael Dutrieue, Stretto
"Eleonor Bindman's new transcription of Bach's Brandenburg Concertos highlights their polyphony, imagining how Bach might have distributed the score if he had created four-part inventions for piano duet." Lisa Flynn, WFMT Chicago
"…pianists are going to greatly enjoy Eleonor Bindman's new piano duo arrangement of Johann Sebastian Bach's Six Brandenburg Concertos. … excellently recorded and immaculately balanced recordings…" David Denton
"…an interesting audible vitality of blending and differentiating voices…[Bindman] achieves a full and interesting sounding score… [The Brandenburg Duets] adds greatly to the two-piano repertoire, which thrives as a four-hand performance –no orchestra necessary." Ilona Oltuski, GetClassical
"Eleonor Bindman's arrangement is outstanding…Bindman and Jenny Lin really lean in to this freedom, swinging when Bach allows, and never staid or boring when things get more thoughtful or academic. … Though she may have started with purely pedagogical reasons for bringing this music to four hands and a piano keyboard… Bindman and Lin are obviously having too much fun here for it to be just that. And that makes it even more pleasurable for us to listen to."
Dean Frey, Music for Several Instruments
"Eleonor Bindman has done a wonderful job for many musicians with her "Brandenburg Duets" project: a transcription of Bach's Concertos Bach for 4 hands… The result is playfully as fresh and new as authentic and convincing. Balanced in sound, perfectly attuned to each other, the version reveals new sides to these works, and the pianists equally do justice to the solos as well as the tutti with four hands, so that it would be a real pleasure for Bach. The hope is to see the transcription published by 2020 in musical form – it would be a stroke of luck for the four-hand repertoire and its lovers. A wonderful recording." —Piano News
"I really enjoyed listening…the transcriptions are marvelous." —Simone Dinnerstein
"Only pianists of the highest caliber could deliver these performances. Nothing I heard in these arrangements seemed out of place, and the phrasing and dynamic shaping of the lines were exceptional.… complete and very musical. It will give you a fresh look at some of Bach's greatest works in piano arrangements that work quite well." —James Harrington, American Record Guide
"Bindman's transcription of Bach's Brandenburg Concertos is a significant accomplishment. It reflects Bach's writing more than Reger's romanticized arrangement by preserving the interaction between the varied soloists of the original pieces and by reserving the force of the piano's bass for interpretive impact. Bindman also achieves her goal of making both piano parts equally engaging to play. Debuting The Brandenburg Duets through this exceptional recording, rather than through a published score, not only exhibits the insightfulness of Bindman's decisions in preparing the arrangement, but also serves as an excellent vehicle to promote this much-needed contemporary transcription." —Krystal J. F. Grant, International Alliance for Women in Music Journal
"Do you really need a new edition of more than 1000 original compositions by Johann Sebastian Bach? Certainly – but only if it is as brilliant as Eleonor Bindman's new transcription for four-hand piano of the famous "Brandenburg Concertos". The Latvian-American pianist has succeeded in writing a version that focuses on the polyphony of the six concertos. The result is the "Brandenburg Duets", which Bindman recorded together with pianist Jenny Lin. The recordings are as successful as the arrangements themselves. The two pianists are remarkably precise, literally melting together, yet pleasantly relaxed and with unmistakable joy in playing. The original character of the compositions remains, while at the same time they acquire new facets through the sound of the modern piano." —Sal, Kulturnews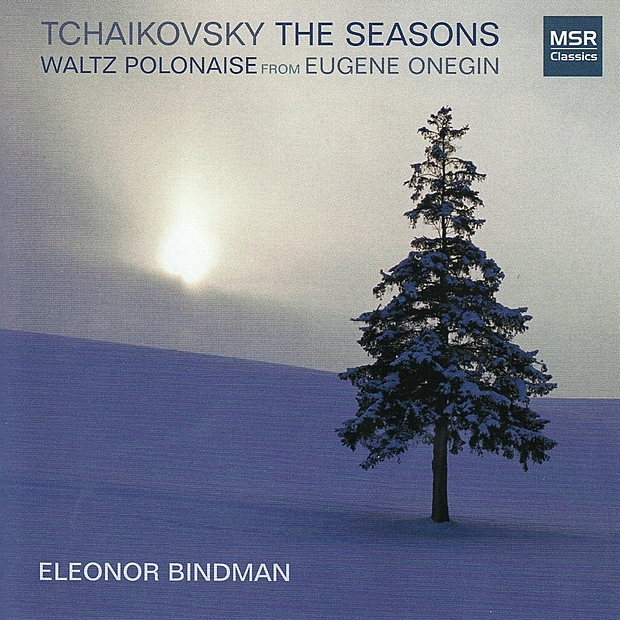 Tchaikovsky: The Seasons
Eleonor Bindman's third CD issued by the MSR Classics label – her rendition of Tchaikovsky's lyrical cycle "The Seasons" and two bravura piano transcriptions (one by Franz Liszt and one of her own) of his music to Eugene Onegin.
"You will certainly never tire of the recording by Eleonor Bindman [who] cultivates a beautifully centered full tone as she conveys to us the essential character of each of these charming pieces." —Atlanta Audio Society
Tracks:
The Seasons, Op. 37b
January: "By the Fireplace"
February: "Carnival"
March: "The Lark's Song"
April: "The Snowdrop"
May: "May Nights"
June: "Barcarolle"
July: "The Reaper's Song"
August: "The Harvest"
September: "The Hunt"
October: "Autumn Song"
November: "In the Troika"
December: "Christmas"

Solo piano arrangement by Eleonor Bindman

Tchaikovsky – Liszt

Polonaise from Eugene Onegin
Liner Notes:
Peter Ilyich Tchaikovsky (1840-1893) was the first Russian composer whose works became part of the standard concert repertoire of the West. His music has always appealed to the public; it abounds in lovely, lyrical melodies, playful Russian folk tunes and vivid imagery. Although Tchaikovsky met with considerable success during his lifetime, his extremely delicate character was a constant source of internal strife; he often said that music was his only salvation from going insane. He found solace in translating the beauty of nature, as well as his turbulent emotions, into the pure language of sound.
The twelve "months" of The Seasons, commissioned by a St. Petersburg musical journal, were composed between December 1875 and November 1876. According to the composer's brother, Modeste, Tchaikovsky ordered his servant to remind him when a certain date came around each month, in order not to miss the deadline. Upon being told that it was time to "send to St. Petersburg", he reportedly sat down at once and wrote out the required piece without a pause.
This cycle is an example of program music, that is, music with an attached scenario. Tchaikovsky selected short verses, excerpted from larger works by well-known Russian poets, and used them as epigraphs for each month. The prevalent mood of these pieces seems to reflect the composer's nature, described by Edward Grieg as "melancholic almost to the point of madness."
A loose translation of the imagery:
January: Darkness is enveloping our peaceful corner by the fireplace. The last sparks are fading and the candle has ceased burning.
February: Soon the feast of the winter Carnival will sweep through the village!
March: The boundless spring sky resounds with the songs of larks.
April: The pale blue snowdrop blossom grows out of thinning snow; a farewell to bygone tears and a welcome of new happiness.
May: What an enchanting night! After the northern storms have gone, May comes forth its all its beauty and exhilaration.
June: Come to the seashore, where the waves will caress our feet and the stars will glow with mysterious melancholy.
July: A peasant reaper in the fields sings: "Swing, my arm; work, my shoulder! You, southern wind, cool my face off!"
August: The farmer families begin their harvest, mowing down the rye at the root. The haystacks crowd the fields and the music of the cartwheels squeaks all night long.
September: It's time, it's time! The horns resound, the horses are mounted at the break of dawn and the hounds tug at their leashes in anticipation.
October: Autumn has arrived. The yellow leaves of our poor garden are flying in the wind.
November: Do not look at the road with such longing, and don't try to catch up with the troika. Stifle the disquiet in your heart forever!
December: Once, on Christmas Eve, maidens would make a wish, taking off their slipper and throwing it outside the gate.
The Waltz and Polonaise from "Eugene Onegin", often performed as orchestral concert pieces, epitomize Tchaikovsky's facility for writing fetching dance numbers. They were written for two party scenes in the opera: young Tatiana's birthday celebration in Act II and a ball at the house of Prince Gremin, Act III. In the plot, based on Alexander Pushkin's novel in verse, Tatiana is enamored with Eugene Onegin and writes a love letter to him, only to be rejected by the self-absorbed chap. Years later, the two protagonists meet again, during a fete at the palace of Tatiana's wealthy husband. This time it is Onegin who declares his passion and Tatiana who sensibly cools it off. Curiously, just weeks before Tchaikovsky started working on the opera in 1877, he received a letter from a female admirer in which she implored him to marry her. The composer declined politely, but his sensitive nature was so affected after reading Pushkin's drama that he felt obliged not to follow his heartless hero's example. He was overcome by remorse and agreed to the marriage, which, in turn, only lasted a few weeks.
This recording is dedicated to the memory of Khana Gleyzer.
Recorded and mastered by Adrian Carr at Music Design Masters, NYC
Recorded in February – March 2002
Piano: 1897 Steinway Concert Grand
DDD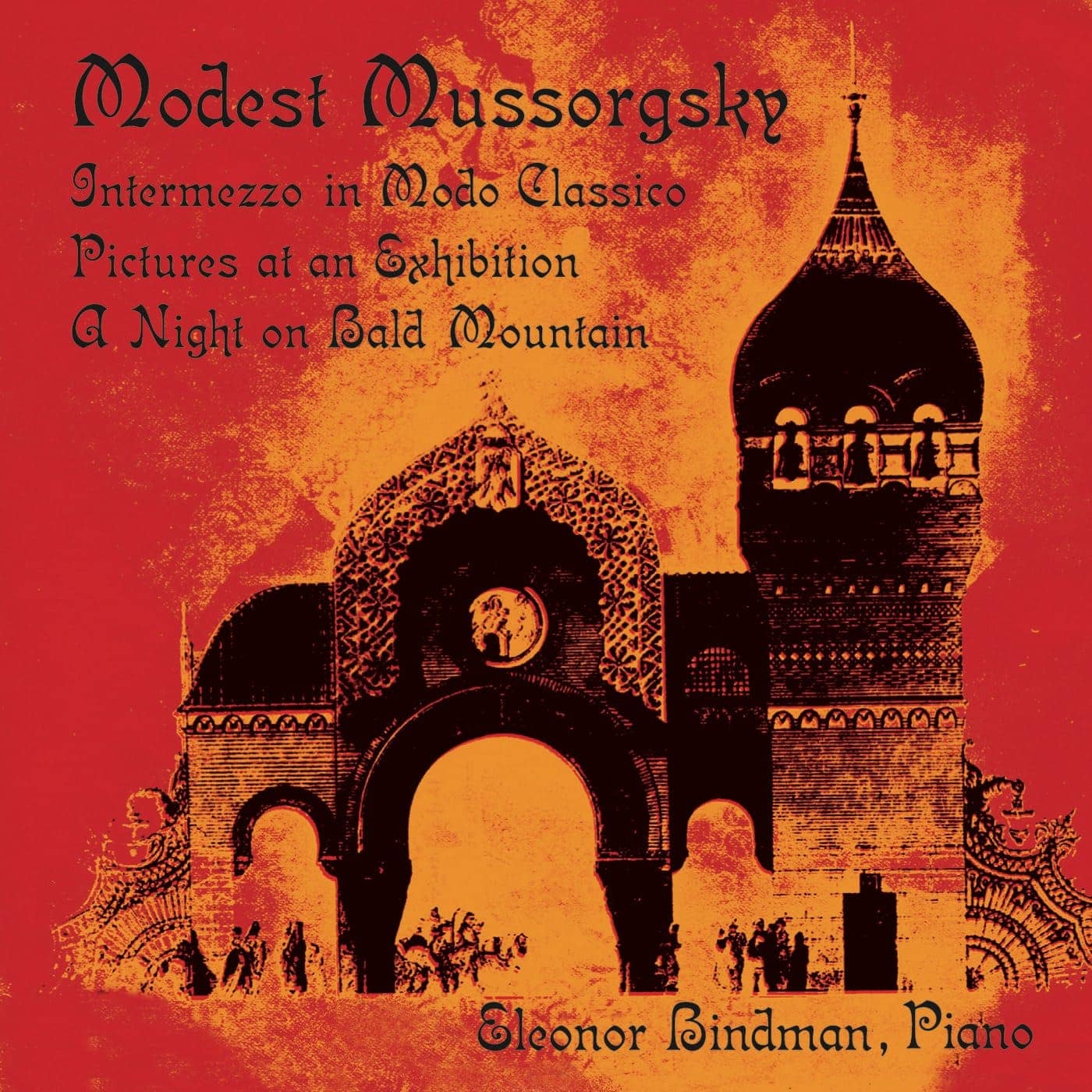 Modest Mussorgsky
Included in Ms. Bindman's debut recording, Three Works by Modeste Mussorgsky, are his famous masterpiece "Pictures at an Exhibition," Ms. Bindman's piano transcription of his orchestral tone poem "A Night on Bald Mountain" and the composer's own piano arrangement of a lesser-known orchestral sketch, "Intermezzo in Classical Style." This recording reflects Ms. Bindman's passion for Mussorgsky's music as well as her interest in the piano's capability to assume the guise of a full symphony orchestra, as all three pieces exist in both instrumentations. The artist's own piano rendition of "A Night on Bald Mountain" is a faithful version of the original. It is published by Carl Fischer, Inc.
Tracks:
Intermezzo in Modo Classico

Pictures at an Exhibition

I. Promenade 1 – II. The Gnome
III. Promenade 3 – IV. The Old Castle
V. Promenade 3 – VI. The Tuileries
VII. The Ox-Cart (Bydlo)
VIII. Promenade 4 – IX. Ballet of the Unhatched Chicks
X. Samuel Goldenberg and Schmuyle
XI. Promenade 4 – XII. The Market Place in Limoges / The Catacombs
XIII. The Hut of Baba Yaga – XIV. The Great Gate of Kiev

Transcription by Eleonor Bindman
Buy/Listen: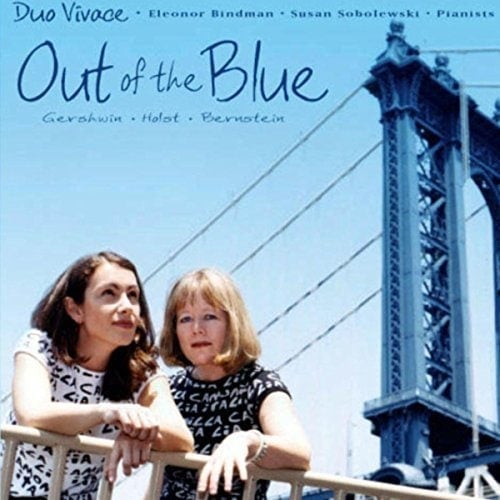 Duo Vivace: Out of the Blue
"Out of the Blue" is an exciting recording celebrating Ms. Bindman's 10-year partnership with the other half of the piano team Duo Vivace, Ms. Susan Sobolewski. The centerpiece of this release is Gustav Holst's 2-piano transcription of "The Planets" – a substantial effort for all involved and a revealing example of how the texture of an orchestral work can come through with unexpected clarity via two well-coordinated keyboards. Framing "The Planets" are two 4-hand jewels: the delightful "Candide Overture" of Leonard Bernstein and Gershwin's deservedly ever-popular "Rhapsody in Blue."
Tracks:
Leonard Bernstein:
Overture to Candide

Gustav Holst:

The Planets, Op. 32: I. Mars, The Bringer of War
The Planets, Op. 32: II. Venus, The Bringer of Peace
The Planets, Op. 32: III. Mercury, The Winged Messenger
The Planets, Op. 32: IV. Jupiter, The Bringer of Jollity
The Planets, Op. 32: V. Saturn, The Brigner of Old Age
The Planets, Op. 32: VI. Uranus, The Magician
The Planets, Op. 32: VII. Neptune, The Mystic

George Gershwin

Rhapsody in Blue
Liner Notes:
Leonard Bernstein's Candide was originally conceived in 1953 as a "big, three-act opera with chorus and ballet." The project took three years to complete and took on a lighter character in the process, becoming an operetta by the time of its Broadway premiere in December of 1956. The substantial score contained nearly two hours of music and was described by the composer as a "Valentine card to European music." The overture summons up the spirit of Rossini, dances like the gavotte, the waltz, the polka and the mazurka abound, and the vocal numbers recall the Italian bel canto style.
The Candide Overture is an exhilarating experience; it captures the listener immediately, rushing through successions of thundering timpani, jubilant trumpets, tireless violins, romantic cellos and self-important French horns. Bernstein fully orchestrated and premiered this popular curtain raiser in the winter of 1956-57, conducting the New York Philharmonic. This four-hand piano version was created by Charlie Harmon, and the piece loses little in "translation." Each register of the keyboard adds a voice to the burlesque jumble of the piece, especially the upper octaves as they imitate the brisk, glittering xylophone theme. The Candide Overture has become an indispensable part of every four-hand Duo Vivace performance, serving as a perfect and much anticipated encore in case the opening is spoken for.
In this triumvirate of Twentieth Century popular classics, Gustav Holst's The Planets is most powerfully associated with large-scale orchestral sound—the breadth and variety of which is perhaps meant to evoke that of the cosmos. This seven-movement work, each representing a planet (except Earth and Pluto, not discovered until 1930), took place over the two-year period from 1914 to 1916. Given that point of history, it is difficult not to draw the conclusion that the onset of World War I influenced the opening movement, Mars, The Bringer of War, or similarly, did not inspire Venus, The Bringer of Peace, as a prayer to end the ravages of war. Indeed, other contemporary references include the dot-and-dash rhythmic patterns of Morse code telegraphed through Mercury, The Winged Messenger or the fading away of mystical, disembodied sound depicting Neptune, thought at that point to be the furthest planet from the sun. Each of the movements has its special astrological reference, which Holst took great pains to project musically. In Jupiter, the Bringer of Jollity, the nature of the joviality is more universal, rather than personal in scale. Embedded between the robust, rollicking sections is a glorious hymn tune that elevates the joyousness to a higher spiritual plane. Uranus, The Magician was thought to be Holst's reference and answer to Paul Dukas' earlier masterpiece of 1897, The Sorcerer's Apprentice. The energy of the relentless scherzo builds to a feverish pitch before almost spinning out of control. What follows is pure magic–a timeless interlude before one more romp leads to the final crash of chords and ultimate dissipation. Saturn, The Bringer of Old Age, was reputedly Holst's favorite, and what he considered his most successful movement. The irrevocable grinding on of time is so effectively depicted in the alternation of chords, and colors—first building up to human struggle and panic—and finally the release and acceptance that comes with old age. It is not a defeat that we hear, humans crushed by their condition. Rather, the music evokes fulfillment of transcendental sort—the sort that can only come with acceptance of the inevitable.
If the popularity of this work immediately conjures up the beating of timpani or the resonance of lower brass in our mind's ear, it is interesting to note that before the public ever heard the orchestral version, The Planets was performed in its original two-piano version. Most likely, this version was the sketch Holst drew up to aid in the orchestration of the work. However, accounts of that first performance, by Vally Lasker and Nora Day, two of Holst's pianistic colleagues at St. Paul's Girls' School in West London, attest to the effectiveness and excitement generated by this version. If any medium could rival the sound of the orchestra, both in breadth and in color, it is certainly the piano. If anything could rival the scale of a LARGE orchestra, it is certainly TWO PIANOS. In this form, The Planets as a work is both familiar and completely different, mimicking the very nature of the universe.
George Gershwin's Rhapsody in Blue is as synonymous with American music and New York City as the composer himself. One cannot escape references to this work. Whether strolling through Macy's at Herald Square or listening to the famous United Airlines commercials, quotations from this American classic abound. Even the youngest of children have visual associations through the brilliant animation of this piece in the film "Fantasia 2000".
When the great 1920's bandleader, Paul Whiteman, also dubbed "The King of Jazz", asked Gershwin to compose something for the famous Aeolian Hall symphonic jazz concert of February, 1924, Gershwin was against the idea and had put the request out of his mind. A press release of the concert in the New York Herald Tribune reminded Gershwin of his obligation, and he turned out Rhapsody in Blue in three weeks.
While the piece was originally composed for piano and jazz band, Ferde Grofe, the Whiteman band orchestrator tinkered with the instrumentation, scoring it as follows: 8 violins, 2 string basses, banjo, 2 trumpets, 2 trombones, 2 pianos, drum, 3 saxophones, and 2 horns. Over time, the instrumentation was changed again and adapted to full concert orchestra settings. Eventually, the popularity of the work warranted even further transcriptions—including that of solo piano, and the version heard performed here, for one piano, four hands. Clearly, the great versatility of the piano allows us to imagine all the variation in timbres—from winds and percussion, to the great Romantic melodies drawn out in the strings. Regardless of the performing medium, the originality of ideas and the sheer inspiration behind this score keep re-inventing themselves with each version—not unlike New York itself!
Buy/Listen: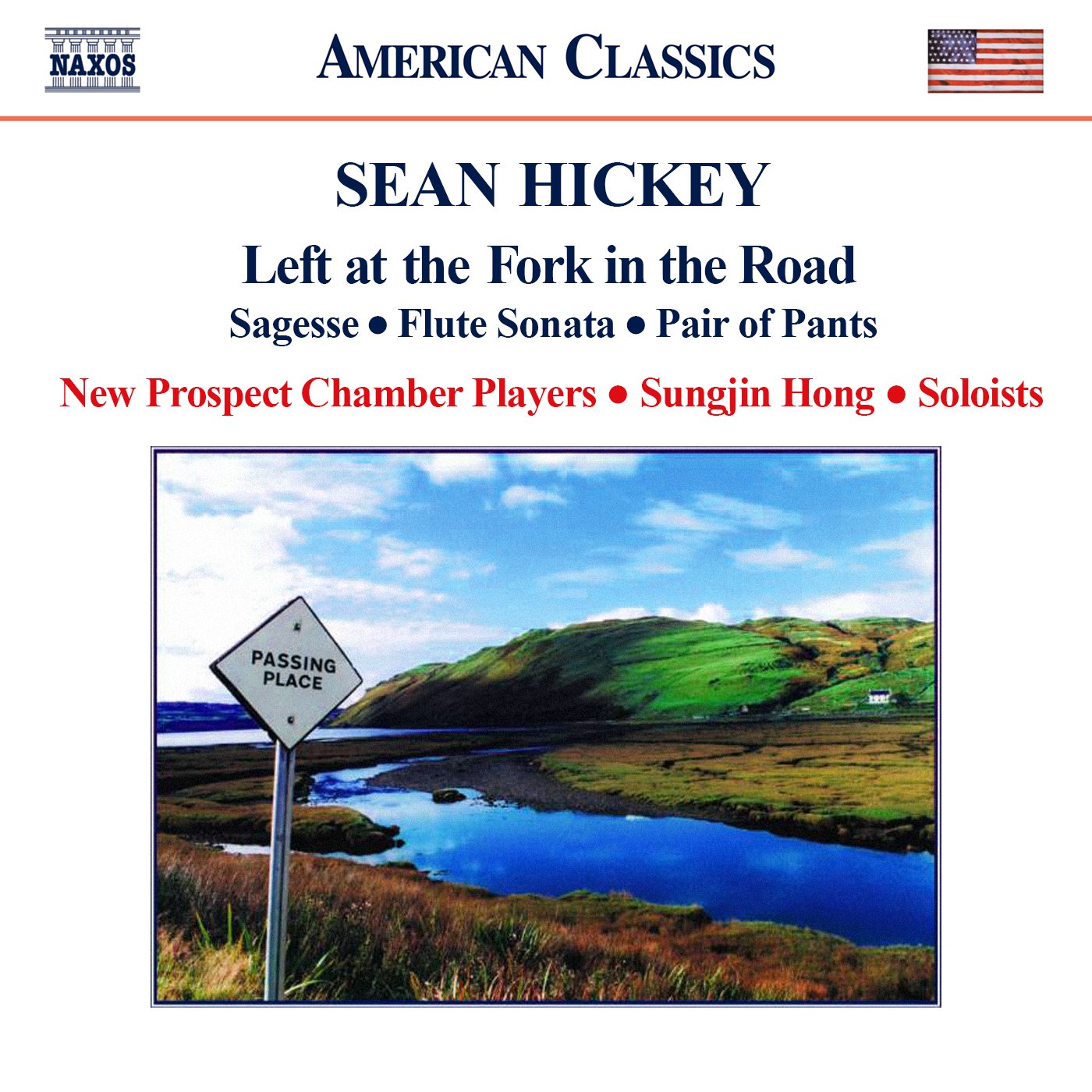 Left at the Fork in the Road
A broad overview of the Sean Hickey's works for chamber and chamber orchestra configurations. Left at the Fork in the Road, released on Naxos American Classics, has met with critical acclaim throughout the world and was a Billboard charting release in its first weeks, a rarity for new music.
Buy/Listen: