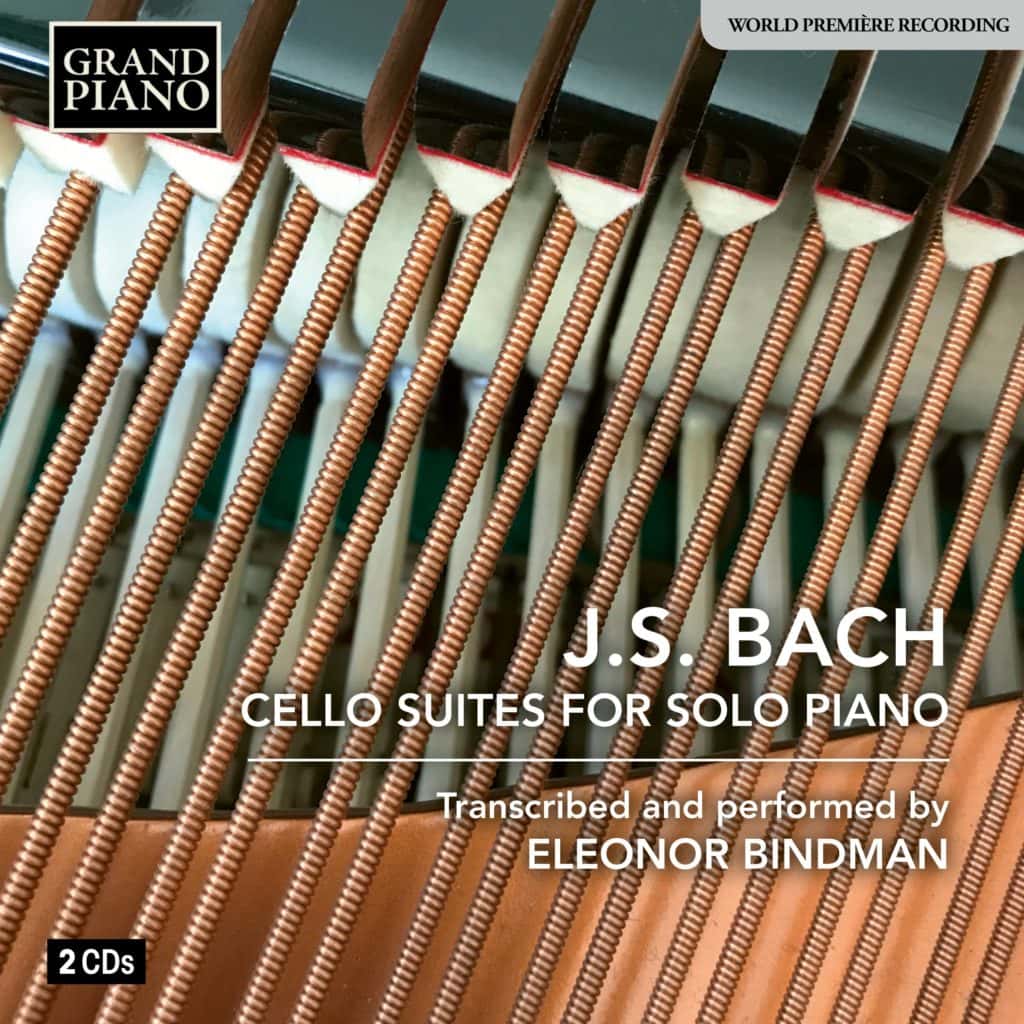 Recording and Scores Out Now
The Bach Cello Suites for Piano recording, released in October 2020, became a best-seller for the Grand Piano label and is streaming worldwide. This is the only existing transcription true to the original cello score, without harmonic additions as one might expect in a piano arrangement. Recorded on a Bösendorfer 225, the sound has an especially rich and mellow tone.
Ms. Bindman is happy to bring the long-awaited 124-page piano score with her commentaries to piano teachers and students. For the first time, non-cellists can get to know and understand the basic elements of Bach's extraordinary language. All 36 movements are fantastic for practicing bass-clef reading, for developing legato and sharing a melody with both hands, as well as for relaxation and freedom of arm movement. Most importantly, this new piano version of the Cello Suites can sufficiently shift one's attention from logistical obstacles, so often present on Bach's keyboard music, to cultivating tone and expression.
"Pianist Eleonor Bindman's piano transcription of J. S. Bach's Cello Suites might be the ideal new project for you…"

—Pianist Magazine
Explore
Reviews
"If you didn't know the cello originals, you'd happily accept these as keyboard suites. … spectacular in Bindman's hands… Fascinating, and fun; Bindman's scholarly but readable notes seal the deal, and the recording is excellent."

—Graham Rickson, The Arts Desk
"Her skillfully wrought arrangements… [treat] the solo cello lines straight, and… you get Bach's text served up with sensitivity and taste… Bindman's well-considered tempos address the music's dance origins. …her Preludes and Sarabandes sing out well"

—Jed Distler, ClassicsToday
"The Six Solo Cello Suites are some of the most celebrated and much-loved works in the classical repertoire, and they continue to fascinate and inspire performers and audiences alike. In this brand new transcription for solo piano, Eleonor Bindman pays tribute to this music's enduring allure. … The transcription offers scope for some adventurous interpretation, particularly in the wonderfully playful pairs of Minuets, Bourrées and Gavottes. … Like the works included in her 'Stepping Stones to Bach', Eleonor has provided pianists with yet more repertoire to explore, and her elegantly, meticulous transcriptions shine a new light on this wonderful music while also remaining true to the original."

—Frances Wilson, The Cross-Eyed Pianist
"Prepare to be surprised when you listen to the new 2-CD release of Eleonor Bindman playing her piano arrangements of Bach's Cello Suites. Ms. Bindman's arrangements faithfully include the notes you will find in the original Bach, but have become works that are new, unique, and completely satisfying on their own terms."

Barry Lenson, Classical Archive
"Quite simply (and irrespective of the particular novelty factor here) this is Bach playing of the highest order. … Listening to Bindman's recording, I was immediately struck by the mellifluous beauty and sensitivity of her renditions of these iconic cello works; that she has transcribed them so well and plays them with such assurance, grace and finesse makes this 2CD set an easy choice for my Recording of the Month."

Andrew Eales, Pianodao
"…an ideal way for amateur pianists to explore the music in domestic surroundings. These Cello Suite transcriptions are completely different, Bindman adding sparingly to the texture of the melodic-line, a very conscious decision, having found previous arrangements only convincing her that the Suites didn't need any 'improvement'. … Her performances are nicely shaped, and without affectation, tempos always well chosen… The New York engineers offer an ideal clarity, and Bindman's programme notes are highly informative."

—David Denton, David's Review Corner