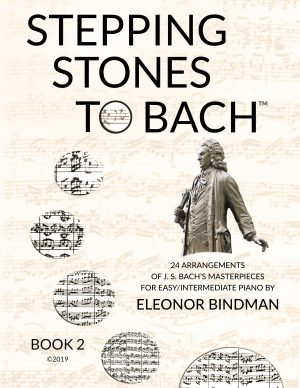 Johann Sebastian Bach left us an unparalleled legacy. His music has accompanied people through centuries of worship and brought countless moments of reflection, inner peace and wonder. It was even launched into space on the Voyager 1 space probe as one of humanity's supreme achievements. At any given moment there is likely to be someone somewhere on Earth playing something by Bach. So here we have more Bach to play, and why not?
This is Book 2 of "Stepping Stones to Bach," a cycle of 2 volumes, 24 pieces each, in a tribute to the format of The Well-Tempered Clavier. Themes from masterpieces like the Brandenburg Concertos, Mass in B Minor, the Cantatas, selected Sonatas and Suites have been simplified and adapted to the modern keyboard. Piano students of all ages can now participate in music-making of the highest quality without having to spend months to learn one piece.
Launch Special
Purchase both — that's 48 pieces — Book 1 & 2 together as downloads for only $30 total, OR get the printed version with an inscription for the same price as without!
P.S. Purchased Book 1 through this site? Add Book 2 to your cart and you'll find a special discount coupon to use at checkout (must use same billing email address).