Primephonic's Jennifer Harrington and I talk about the Brandenburg Duets on their blog and explored some of the next steps for me around the project: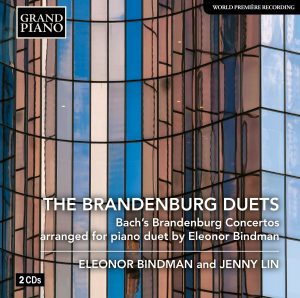 What is the process you must take to have your arrangement of The Brandenburg Duets published?

I am working diligently on getting more reviews, attention on social media and other publicity for the Brandenburg Duets recording. Reviewers are swamped these days and many of them don't really care much about the 4-hand piano medium or the educational potential of this new arrangement because the classical music field is so star-driven. Fortunately, the listeners really like it so it's selling well, and I am getting great feedback about hearing the music in a fresh new way and the wonderful mood the recording puts people in. Now I'm about to approach music publishing houses, chiefly aiming for German/European ones, and hoping they will think this is a worthwhile project to bring to light in time for the 300th anniversary the Brandenburg Concertos in 2021.

You've transcribed several pieces of music over your career. Do you foresee more projects like this in the future? Any that you can share about?

Yes, every recording of mine includes a piano transcription, as it turned out. I was always fascinated by the possibility of sounding like an entire orchestra on just one piano and I am motivated by making great music possible for pianists to play. I tried to simplify the Brandenburg Duets as much as possible, so that amateurs and students can play some of the movements. Having taught adults for years, I really value the experience of amateur pianists, not just concert-level performers. Most well-known Bach transcriptions by Busoni, Liszt, Siloti, etc., are virtuosic, so lately I've been making shorter and less complicated Bach transcriptions that still sound beautiful.

Do you have any recording projects you look forward to releasing that you can share with us?

Currently, I have about 7-8 shorter new solo piano Bach arrangements (including a solo version of one movement from Brandenburg Concerto #4) and I am adding more for a future recording project. Also, I want to record the Partitas soon – I have played them for years and feel very close to that music.

What is your favorite classical music memory?

My favorite memory comes from doing research on Liszt's transcriptions at the Library of Congress about 20 years ago. To gain access to them I had to fill out a separate slip of paper for each one and give it to a librarian who then descended into what they called "the vault" and brought them out for me, one after another. I remember sitting in a small private room at that library with those old manuscripts and trying to wrap my mind around the fact that I'm holding the same papers as Franz Liszt once held. I was looking at his original markings: they were so well-organized with different edits in colored ink that you could still clearly see… I had goose bumps, a sensation of awe, a feeling of time travel touching those papers. I still get that sensation, even now when I think of it.