It is my pleasure to share The Cross-Eyed Pianist's preview of my October 9 release of J.S. Bach Cello Suites for Solo Piano in a piece titled, "Finding the 'essence of Bach': How a lifelong love of Bach led this pianist to transcribe the complete solo cello suites":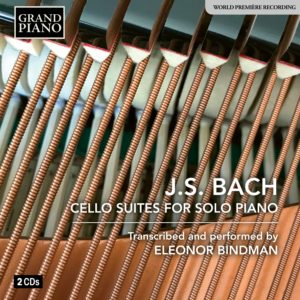 "The Six Solo Cello Suites are some of the most celebrated and much-loved works in the classical repertoire, and they continue to fascinate and inspire performers and audiences alike. In this brand new transcription for solo piano, Eleonor Bindman pays tribute to this music's enduring allure. … The transcription offers scope for some adventurous interpretation, particularly in the wonderfully playful pairs of Minuets, Bourrées and Gavottes. … Like the works included in her 'Stepping Stones to Bach', Eleonor has provided pianists with yet more repertoire to explore, and her elegantly, meticulous transcriptions shine a new light on this wonderful music while also remaining true to the original."

—Frances Wilson, The Cross-Eyed Pianist
See the full review on crosseyedpianist.com!
Pre-order the recording